On the Needles
Still pluggin away on Martina Behm's Sleeves. I've finished both sleeves now, and it's time to join them together. Still love the yarn and the pattern. It's pretty ingenious the way it's written :)
Between the Pages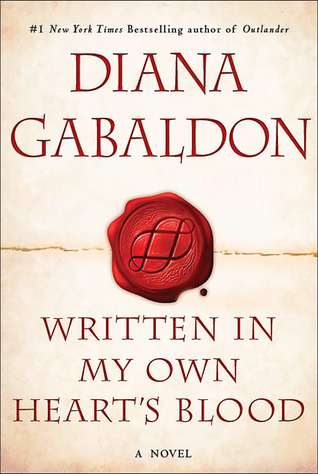 I had a rather large book haul arrive this past Monday, and among them was Diana Gabaldon's newest book, "Written in My Own Heart's Blood"! Of course I had to start it right away, but I must admit to some trepidation as I did so... While DG doesn't exactly "kill her darlings", she certainly does love to put them in very tight spots. Doesn't exactly make for all that comfortable reading, as I just want to see them happy and together.
Stash Stories
Books count as stash, right? Just a different type of stash ;) I'd ordered a bunch of books from Amazon.co.uk last month, but since "Written in My Own Heart's Blood" wasn't released until June 10th, they didn't arrive until this week. 4 books I already own as ebooks, but love enough that I wat them physically present in my library as well (the WitchLight trilogy and "Saturday Night Widows"), and 4 brand new books where I either know and love the author/series (Gabaldon, Erica Bauermeister) or read a sample on my Kindle and liked what I read ("Bunheads", "Heads in Beds")
I happened to be home when the package arrived, and I think I may have squeeled when I heard the delivery man knock ;)
Events / Challenges / KALs
Unofficial signups for the
Year of Projects
have opened, and I'm very keen to get started on this. Have already begun winding the yarn for my first project, which is taking awhile as it's 30 mini-skeins in a Dragon Fly gradient. But doesn't it look awesome?
Can't wait to start knitting with this gorgeous yarn! Now I just need to decide whether to go from green to purple or from purple to green! (It's one long gradient, but I split it up into two to make it easier to handle.)